Bringing the past to the present
The Nemea Center for Classical Archaeology is a research unit within the Department of Ancient Greek & Roman Studies at the University of California, Berkeley. By means of teaching, field research, archival work, and public service we provide students with opportunities for active participation in the discipline of classical archaeology and we support their individual research projects with primary and secondary materials. We also strive to maintain a strong and ever-evolving teaching/mentoring program in classical archaeology.
Currently, our work includes archaeological excavation in Greece, close-study of artifacts in on-site archaeological museums, digital archive work on campus, and various related research projects in Nemea (Greece) and its surrounding areas.
In Memoriam: Remembering Robert Knapp
It is with deep sorrow that we report the passing of our esteemed colleague, Dr. Robert Knapp, Emeritus Professor of Classics and of Ancient History and Mediterranean Archaeology. Professor Knapp passed away on Sunday, September 17 2023. Not only was Dr. Knapp a dedicated member of the academic community at UC Berkeley, but he served for many years on the Advisory Committee of the Nemea Center for Classical Archaeology. While at UC Berkeley he won the Letters and Science Outstanding Undergraduate Advising Award (2002) for his commitment to undergraduate education and the Berkeley Citation (2006) for his thirty years of service to the University. In 2012 he was named the Distinguished Alumnus of the Year at his alma mater, Central Michigan University. You can find more information about his scholarly work here and you can read a tribute to his life and work from the Department of Ancient Greek & Roman Studies here. He will be remembered especially for his warmth and generosity as a colleague and educator. Our heartfelt condolences go out to Professor Knapp's family during this difficult time.
Check out our digital collection!
We're working hard at the Nemea Center for Classical Archaeology to make some of the artifact collection currently housed in the Archaeological Museum of Nemea available in a virtual environment so that it can be used for research and teaching.
The ongoing global health crisis has prevented many of us from (among other things) traveling, visiting museums, participating in excavations, and even sitting in a classroom with our peers and colleagues. In an effort to share some of our work with you, despite these circumstances, we've begun digitizing our collection so that you can explore it from your own home or use it in your digital pedagogy.
During the short stretches of time that we've been able to spend in the museum over the past couple of seasons, we 3D-scanned some objects and have uploaded the models to Sketchfab. There are vessels, figurines, coins, and even some architectural fragments. Some of the objects have even been pre-sorted into "collections" for ease of browsing, but you can also see a list of all the models at once or search using key words. Our digital collection will continue to grow, so we hope that you check back often!
Skyphos
P1081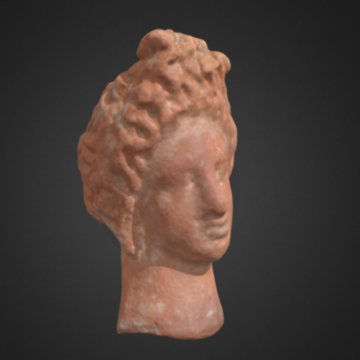 Figurine Head
TC225
Mycenaean Carinated Kylix
P137
Our Facilities
Our Center is composed of the Nemea Excavation Archives (7125 Dwinelle Hall, UC Berkeley campus) and the Nemea Archaeological Center in Nemea, Greece. The latter is composed of 3 elements: the Bowker House complex (residences, common room/kitchen, storage areas, and garden), the Thomas J. Long Study Room in the Nemea Archaeological Museum (office/drafting space, research library and archive of original excavation materials), and the Nemean land to which Berkeley holds scientific rights. All the work and activities of the Nemea Center, including staff support, is financed solely through donations.
Research in the field
We currently operate three field projects in Greece: the study of material and architecture from the Sanctuary of Zeus at Nemea, the study of artifacts from the Bronze Age structure referred to as 'Petsas House' at Mycenae, and the excavation of Mycenaean chamber tombs at the prehistoric cemetery of Aidonia. Each project involves a dynamic combination of students, researchers, local experts, and other supporters. Learn more.
Research on campus
Undergraduate students work in close collaboration with faculty and graduate students to digitize and maintain archival material on the UC Berkeley campus. Their work inspires their own research projects and facilitates those of senior scholars on campus and beyond.
Archaeological Field School
Every summer The Nemea Center for Classical Archaeology offers a field school for undergraduate students with an interest in archaeology. No previous experience in archaeology is required – only a strong desire to learn and dig!
Myth and history
The Nemea Valley is nestled snugly in the mountains of the region called Korinthia, in Greece. Its ideal setting includes mountains, vineyards, olive groves, and, of course, the towering columns of the Temple of Zeus. The site provides an ideal setting for students and researchers to ponder and work out issues connected to the intersection of myth, history, and archaeology both synchronically and diachronically.
The ancient site of Nemea includes a Temple to Zeus, treasuries, an athletic stadium, a bathing complex, a "hero shrine," and more. Do these structures and the artifacts contained within them align with the legendary accounts of Nemea that include such heroes as Herakles and Opheltes? How do they correspond with the literary record, especially the poems of Pindar or the historical account of Thucydides? Or does the archaeology provide a different picture all together?
The valley and the region host sites that stretch back into the Neolithic period, the Bronze Age, and all of the subsequent historical periods right up through the modern day. How do the movements of settlements and resources fluctuate over time? How did communities in their respective time periods exploit the region and interact with their neighbors? Our research projects allow us to explore some of these topics and continue bringing the past to the present in fun and informative ways.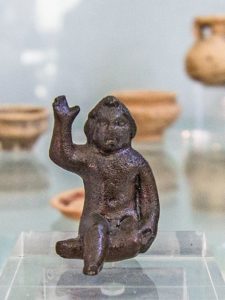 Donate to the Nemea Center
All the work of the Nemea Center, including staff support, is financed solely through donations.